The meeting of Social Council of the Silesian University of Technology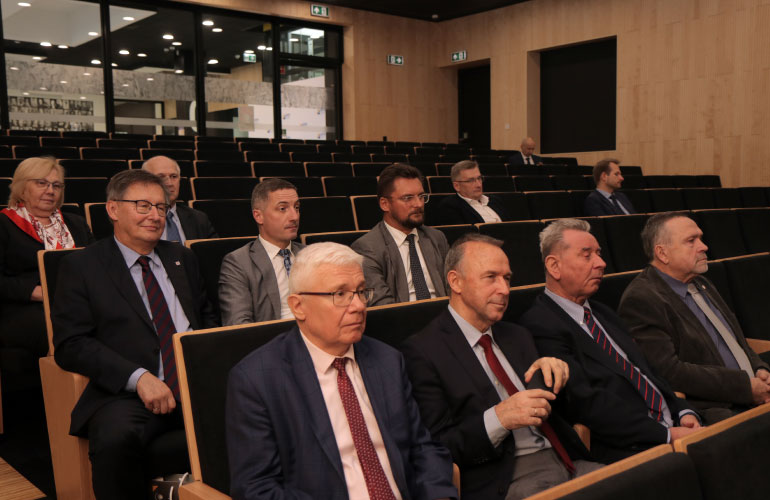 The Social Council of the Silesian University of Technology met on Tuesday, 29 November at the European HealthTech Innovation Center. The council is made up of representatives of local authorities, scientific, professional and creative institutions and associations, as well as entrepreneurs and business organisations.
The meeting was organised by the Vice-Rector for Cooperation with the Social and Economic Environment, Prof. Janusz Kotowicz, in cooperation with the Director of the EHTIC, Prof. Marek Gzik.
The attendees were welcomed by the Chairman of the Social Council, Dr. Jarosław Mlonka, President of the Management Board of Sumitomo SHI FW Energia Polska S.A., and the Rector of the Silesian University of Technology, Prof. Arkadiusz Mężyk, who presented the challenges facing the University in the coming year.
We are trying to cope with both: crises and finances. So far, we are doing quite well," summarised Rector Prof. Arkadiusz Mężyk in his speech.
Following on from the rector's remarks, President Jarosław Mlonka emphasised that the same challenges also apply to the public sector and entrepreneurs.
Subsequently, the deans of the Faculty of Organisation and Management, Prof. Jan Kaźmierczak, and the Faculty of Biomedical Engineering, Prof. Zbigniew Paszenda, presented the activities of the units they head to the assembled.
The next speaker was Prof. Janusz Kotowicz, who gave a presentation entitled "Hydrogen technologies at the Silesian University of Technology". The Vice-Rector emphasised that in its activities, the University wishes to refer to the role of Silesia in the energy and fuel sector and strives to play a leading role also in the development of hydrogen technologies. He listed the activities undertaken by the University in this respect, including its participation in the Silesian-Malopolska Hydrogen Valley, or its involvement in the creation of the National Centre for Research and Implementation of Renewable Energy (PolRES Living Lab). The Silesian University of Technology is also implementing a number of NCBR, NCN and European projects under these themes and is cooperating with cities in the region on hydrogen technologies. In reference to this, the Vice-Rector mentioned the Mayors of Gliwice, Rybnik, Katowice and Zabrze, who were present at the meeting.
In turn, the Vice-Rector for Infrastructure and Promotion, Prof. Tomasz Trawiński, Ph.D., discussed the topic of investments in the Silesian University of Technology.
The participants also had the opportunity to visit the laboratories of the European Centre for Innovative Health Technologies, and its director, Prof. Marek Gzik, presented the Centre's areas of activity.